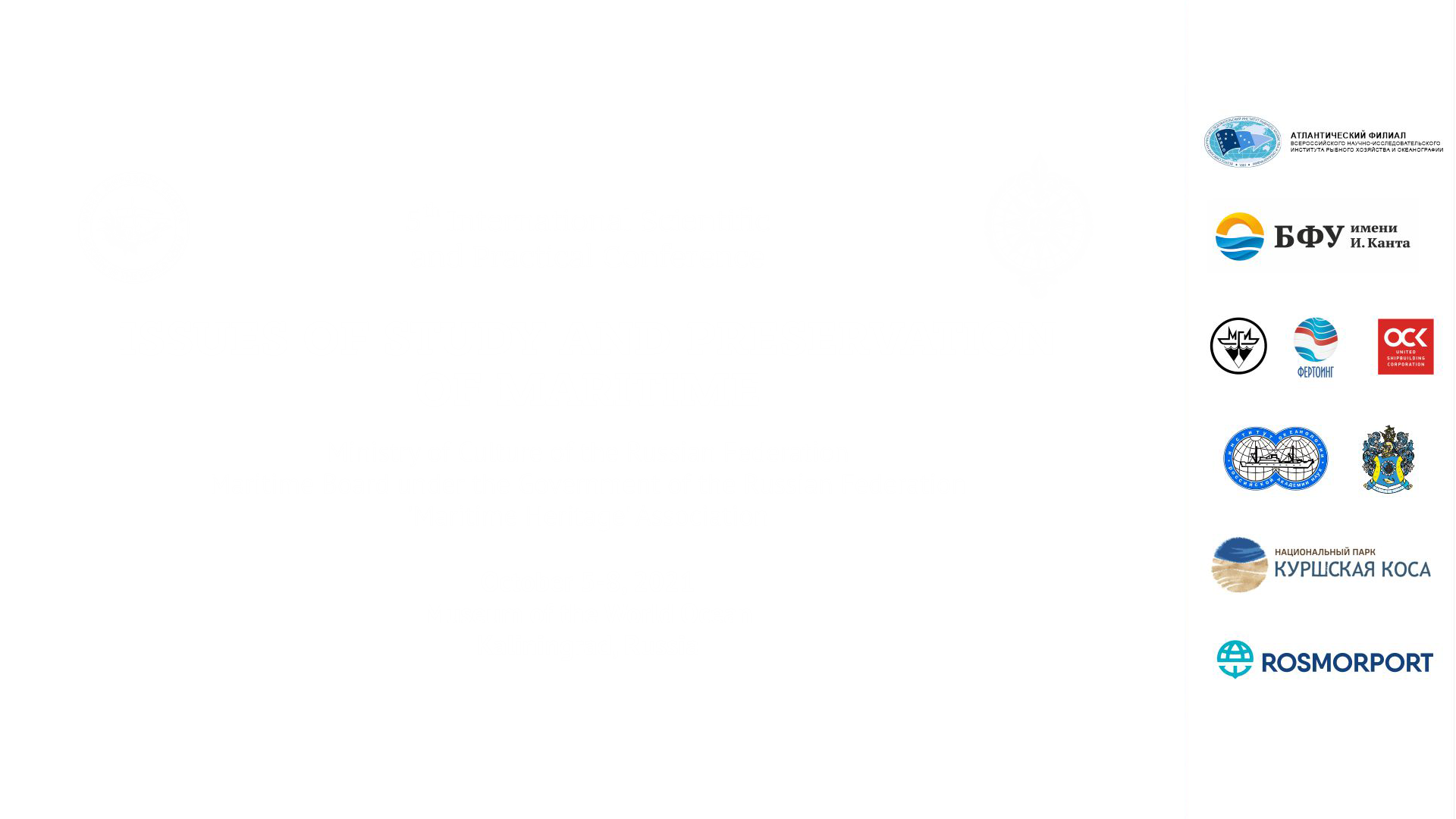 5th International Scientific and Practical Conference
'Issues of Study and Preservation of Maritime Heritage'
October 5-8, 2021
Museum of the World Ocean
Kaliningrad, Russia
Organizers:
Ministry of Culture of the Russian Federation
Maritime Board under the Government of the Russian Federation
"Maritime Heritage" Association
Media partners
P.P. Shirshov Institute of Oceanology, RAS
Atlantic Branch of the P.P. Shirshov Institute of Oceanology, RAS
Atlantic Branch of the VNIRO
JSC "United Shipbuilding Corporation"
I. Kant Baltic Federal University
Kaliningrad State Technical University
North-Western Basin Branch of the FSUE "Rosmorport"
Curonian Spit National Park
Marine Hydrophysical Institute, RAS
OOO "Fertoing"
Objectives of the conference:
Sharing experience and best practices between specialists dealing with study, preservation and promotion of maritime heritage; enhancing cooperation between museums and research institutions; presentation of scientific results in museum work; finding topical issues within preservation of maritime heritage and their solution.
Topics of the conference:
museums (maritime, natural history, technology, etc.), archives, libraries;
collections of historical, cultural and natural maritime heritage;
historic and traditional shipbuilding and seafaring;
maritime memorials, fortifications, historic towns and settlements;
underwater heritage, conservation and restoration of underwater heritage objects;
techniques for preservation, study and display of maritime heritage;
maritime education.
SESSION I "Maritime cultural heritage at museums, libraries and archives"
advantages and problems of network projects, examples of network project implementation;
specifics of displaying maritime cultural heritage at various institutions;
attribution: intuition, experience, documents, labels;
topical issues of integration of international scientific knowledge into permanent exhibitions.
SESSION II "Natural maritime heritage"
preservation of natural maritime heritage;
methods for presenting natural maritime heritage;
art-design and consumption of cultural products;
impression industry: theory and practice.
SESSION III "Underwater maritime heritage"
conditions and perspectives of diving development in Russia and the CIS;
key issues of undersea heritage branch development;
presentation of innovative projects and solutions for diving and underwater technical works;
laws and regulations regarding preservation and museumfication of underwater heritage objects.
SESSION IV "Global and regional strategies for cultural industry development: a museum as a key factor for sustainable development"
museums' role in shaping a national/regional public image;
national/regional cultural branding;
museums as centres for international cooperation;
museums as city-forming institutions.
SESSION V "Digital museums: techniques for preservation, study and display of maritime heritage"
technology trends: big data analytics, VR, AR and MR, video analytics, AI, virtual assistants, etc. Their application in research and museum work;
digital interaction between a museum and its visitors;
advanced digital and IC technologies;
documentary and graphic stories at museums.
SESSION VI "Maritime education"
maritime education;
promotion of oceanography: opportunities and difficulties;
development of modern competences by implementing supplementary educational programmes;
'The Decade of Ocean Science for Sustainable Development (2021-2030)' by UNESCO: updating scientific knowledge to support the ocean we need.
Workshop I "Organizing remote museum work and using online services during self-isolation"
digital technologies for museum's basic tasks;
automation of employee's workspace;
museum information systems;
working with the Russian State Catalogue;
exhibition activity and its quality (issues of displaying original exhibits);
security, video surveillance, temperature and humidity conditions, etc.
Workshop II "Preservation and maintenance of museum vessels"


It is planned to publish conference proceedings.
| | |
| --- | --- |
| July 21, 2021 | opening of registration |
| August 31, 2021 | final on-line registration form submission. Paper abstracts should meet the formatting requirements |
| September 15, 2021 | final conference fee payment. Detailed information on payment procedure will be announced later |
| September 20, 2021 | programme of the conference |
| October 5–8, 2021 | conference |
| November 5, 2021 | final paper submission |
| February, 2022 | publication of conference proceedings |
Chairperson:
Vasilina Medvedeva – Head of the Department for Nature of the Museum of the World Ocean (Kaliningrad)
Members of the Secretariat
Yulia Stepanchuk – Head of the Department for History of the Museum of the World Ocean (Kaliningrad)
Irina Baykova – Senior Research Officer of the Museum of the World Ocean (Kaliningrad)
Zhanna Moroz – Assistant of the Director General of the Museum of the World Ocean (Kaliningrad) (Калининград)
Paper abstracts should meet the formatting requirements
The programme of the 5th International Scientific and Practical Conference
'Issues of Study and Preservation of Maritime Heritage'
devoted to the 30th Museum of the World Ocean's anniversary
will be published on September 20, 2021
Section is under construction
PLEASE, FEEL FREE TO CONTACT US IF YOU HAVE ANY QUESTIONS:
Federal State Government-Financed Institution for Culture
"The Museum of the World Ocean"
1 Petra Velikogo Embankment, Kaliningrad, Russia
Phone: +7 (4012) 564-886, 53-89-15, fax 34-02-11
Larisa Zubina
Deputy Director General for Science
e-mail: zubina_larisa@mail.ru
Phone: +7(4012) 564-880 (ext. 137)
Vasilina Medvedeva
Head for Department of Nature
e-mail: v.stepancova@yandex.ru
Phone: +7(4012) 564-883, 564-880 (ext. 126)
Secretariat
conf2021@world-ocean.ru